premier metal Fabricators of the Pacific Northwest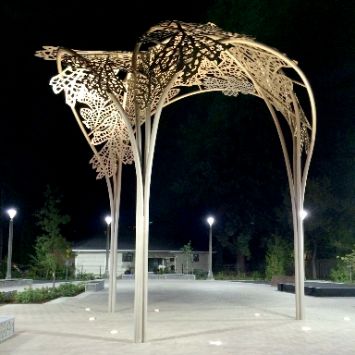 Bower
Designed by Susan Zoccola featuring water-cut steel oak leaves draped over formed Steel tubes. Located at thePark Ave/Oak Grove Trimet Station inPortland, Oregon.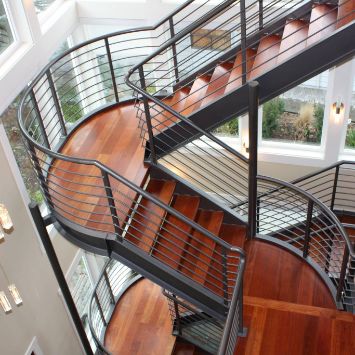 Residential Stair Landing
An elegant steel staircase, featuring rolled bars, channels, and a curved landing.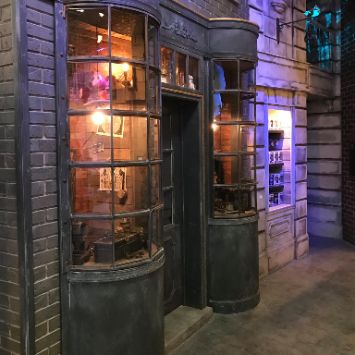 Funko Head Quarters
Rolled aluminum and steel façade covers Funko's retail Harry Potter Diagon Alley display.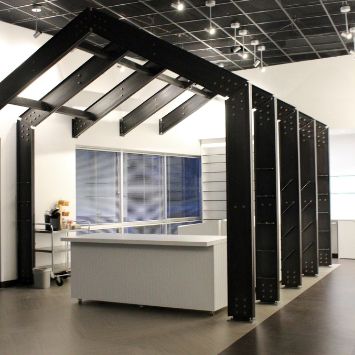 Multiple Listing Service
Beautiful showroom displays that serve to simulate realtor home architecture. Heavy steel beams and exposed rivets create an elegant industrial feel for the modern home.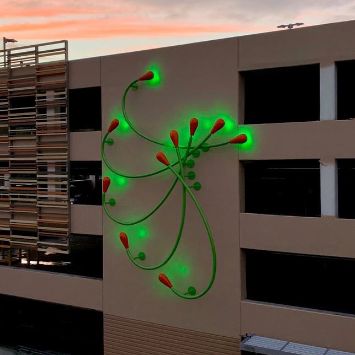 Spiraling and Radiating Light
A pair of installations designed by Dan Corson features over-sized formed bars and reclaimed street lights mounted to the façade of the Walnut Creek Train Station in Walnut Creek California.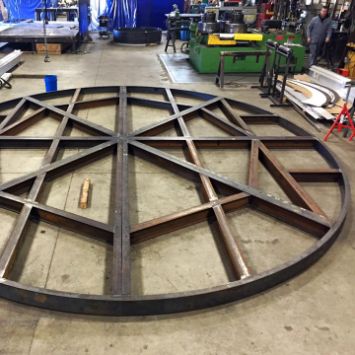 Custom Steel Art Work
Show piece featuring rolled and formed steel, welded into a geometric web for residential installation.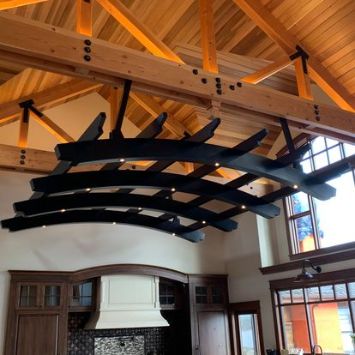 Integrated Residential Lighting Display
This residential installation features rolled and formed powder-coated steel and recessed led lighting mounted to the beams of a kitchen.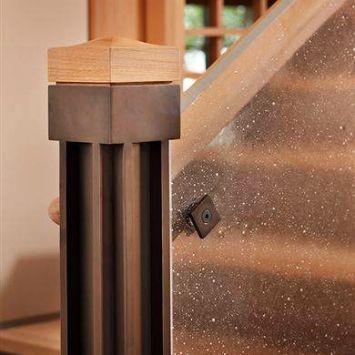 Residential Newel Post
This steel staircase post features a milled effect with no visible welds. Custom Metalistics design staircase for a cohesive and modern feel.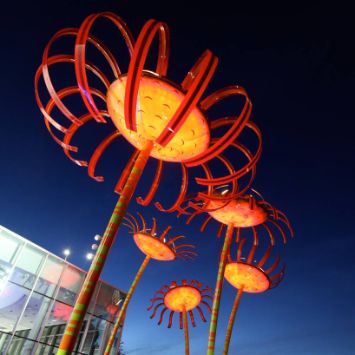 Sonic Bloom
40 feet high flowers outside the Pacific Science Center feature rolled and forms petals, integrated and interactive lighting mounted to fiberglass centers.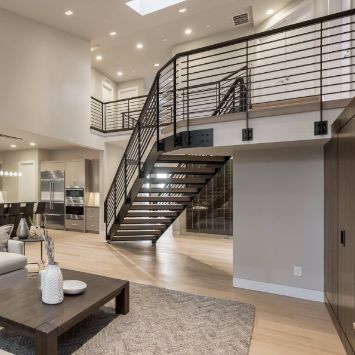 Residential Railings and Staircase
Our in-house designers and fabricators work hand-in-hand with home-owners to guide them through inspiration, fabrications, and installation.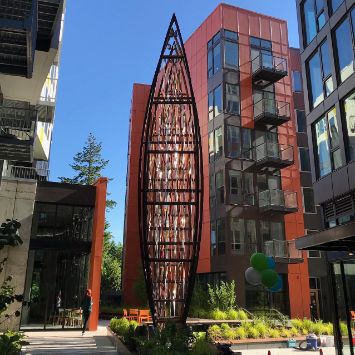 Loom at Arras
A multi-story tapestry with formed and rolled steel ribs unites a Seattle apartment complex through it's melding pot symbolism. Fabrication and installation provided.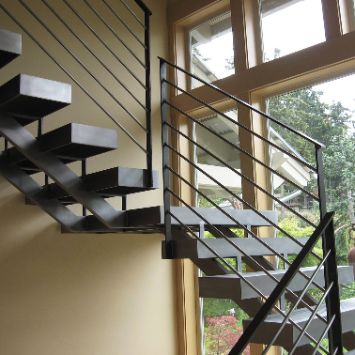 Residential Staircase
Custom perforated metal railing and steel structural elements designed in-house.
About Metalistics
Premier Metal fabricators
We love pushing the envelope of our fabrication knowledge and metalworking skills. For more than 20 years, Metalistics has produced quality results for our clients, including metal fabricators, artists, home builders, commercial projects, and backyard hobbyists.
Our talented staff can take your project from the design process to the finished product. In addition, the experience and knowledge of our skilled fabricators give your project the most significant opportunity for success while being cost-effective and efficient.
Consider hiring a team of metalworkers with an eye for form and function on your next project. From commercial, residential, and high-end art installations, our team of metalworkers takes pride in performing a variety of techniques.
Work with our small team of quality fabricators in commercial, residential, and artistic rendered projects applying master-level skills in steel, aluminum, copper, brass, and bronze.
Engage with our skilled team to assist with your metal project. Our team has the experience and skills to meet your most demanding needs, from design to fabrication and installation.